Everyone else is making one so I had to too :)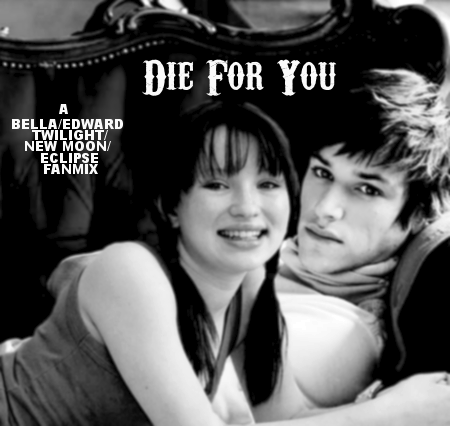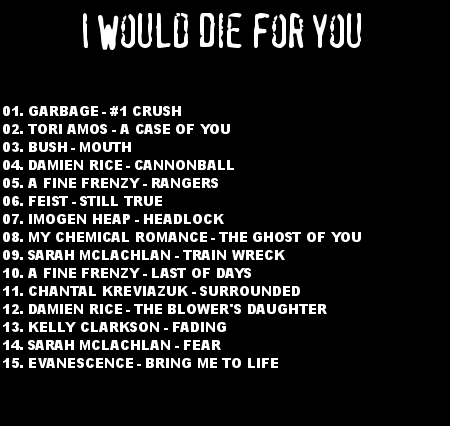 01.
Garbage - #1 Crush
(signifying the love Bella and Edward feel for each other)
I would die for you / I would die for you / I've been dying just to feel you by my side / To know that you're mine
02.
Tori Amos - A Case of You
(Edward loves Bella and must protect her from his vampire hunger. It's a symbolic song that he loves her and she consumes him, but as a vampire so does her blood)
You're in my blood like holy wine / You taste so bitter and so sweet / Well, I could drink a case of you, darling
03.
Bush - Mouth
(Edward is a vampire and as such his soul is in limbo)
Your silver grin / Still sticking it in / You have some machine soul machine
04.
Damien Rice - Cannonball
(Edward omits and sometimes lies to Bella about things (like how much he cares) and life has taught him death is constant, as it will be for Bella)
Stones taught me to fly/ Love, it taught me to lie / Life, it taught me to die
05.
A Fine Frenzy - Rangers
(Edward and Bella always fear of impending capture or threats against the Cullens, and of being forever separated)
The rangers stream out to the cabins / They are the hunters and we are the rabbits / Maybe we don't want to be found / Maybe we don't you tracking us down
06.
Feist - Still True
(Bella is willing to give up everything for Edward and follow him wherever he goes)
Take me anywhere / With you / I'm still true
07.
Imogen Heap - Headlock
(Edward believes he is protecting Bella by trying to leave her in New Moon, but she knows something is wrong)
You say too late to start got your heart in a headlock / I don't believe any of it
08.
My Chemical Romance - Ghost Of You
(Bella's insistence that she wants to become a vampire and be with Edward forever)
If I died, we'd be together / I can't always just forget her / But she could try
09.
Sarah McLachlan - Train Wreck
(Bella's love has been renewing for Edward. He can see past the darkness in life to her light)
And your love and all its finery / Tear at the darkness all around me / Until I can breathe again
10.
A Fine Frenzy - Last of Days
(When Edward leaves Bella in New Moon, nothing is the same for her after knowing and loving him)
I watched you disappear into the clouds / Swept away into another town / The world carries on without you / But nothing remains the same
11.
Chantal Kreviazuk - Surrounded
(When Bella first meets Edward he is the big man on campus and becomes a shining light in her life)
I was there / When you shone as bright as Bethlehem from afar / I was there / When you were young and strong and perverted / And everything that makes a young man a star
12.
Damien Rice - The Blower's Daughter
(Edward and Bella fall in love and only have eyes for each other)
I can't take my eyes off you
13.
Kelly Clarkson - Fading
(Edward can only be his true self when with Bella and his family)
You can't let them see you like this / Thinking what mask you're gonna front / You grab the nearest one / You take your place
14.
Sarah McLachlan - Fear
(Bella wants to become a vampire to be with Edward, but she fears leaving her family)
I have so much to lose / Here in this lonely place / Tangled up in our embrace / There's nothing I'd like better than to fall
15.
Evanescence - Bring Me To Life
(Edward and Bella only feel complete when they are together)
Now that I know what I'm without / You can't just leave me / Breathe into me and make me real / Bring me to life
Please let me know what you think! I'd love comments :) PS: Some files are .m4a's!